Worry Causes Wrinkles: The Truths of the Soul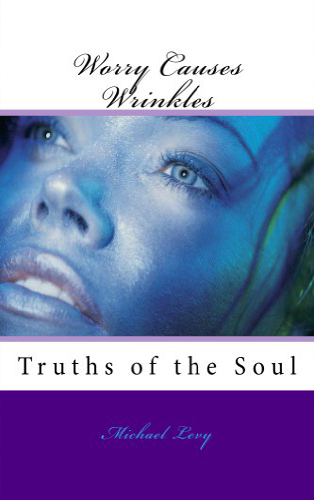 Poet Laureate of the Universe—Somewhere between Isaac Newton and Albert Einstein, between Robert Frost and Edgar Allen Poe, between Immanuel Kent and Erasmus stands Michael Levy.
His work Worry Causes Wrinkles, the Truths of the Soul is an astounding collection of deeply philosophical thoughts and observations accented by some of the most recommended poetry since the great masters.
Levy states that, "the basic foundation for any authentic existence is to recognize the true identity of all mortal being and that identity is the energies of the soul."
Varying in subject and concepts from the Universal, to the Dark Side of Man, from the Tragedy of War to Human Loss and Love, Levy punches holes in the dogmatic themes of existence so prevalent to our history.
Poems like – Introducing Master Death, The Devil's Cloak and Twilight Acts of Decadence, ring of a truly Poe-ectic structure and tone. Yet at the same time, poems such as – Bliss Streams, Insights into Enlightenment and the Old Park Bench, spark of philosophical substance that many people's hurried lives fail to experiences.
Still further, The Follies of Man, Chairman of the Bored and the Gravy Train, speak of the social ills that affect us all. Then Levy surprises you with great hope for eternity with Almighty Online, A Happy Hobby Horse, Day and Delight and Simply Being.
This is sure to be one of the great-remembered works of the 21st century. If not credited now, it will be, be assured recognized later by those that love both the written word and the learned wit of fellow traveler in this, the symphony of the spirit.
Michael Levy was born in Manchester England on the 6th of March 1945. The second world war was drawing to a close and folks were just beginning to pick up the remnants of five hard years of conflict.
As far as learning more about the author – the fun of this one is that he presents his bio in a poem titled, A Whimsical Poetic Glance and you can see that he has spent years in self-reflection and having reach a point that he can set aside ego, he shares with his readers, what it is like to be the Poet Laureate of the Universe.
Book Review by Thomas Freudiger
Director – Entry Way Publishing